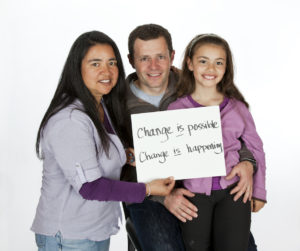 There's no denying the harsh impact of this election – and it's far-reaching impacts on many of the things we've been working to advance since we started this organization, nearly 8 years ago. As we geared up for 2017, in hope for what might be possible, we instead were met, again, with the harsh realities of the sexism, racism, and classism that continue to persist in our country. And now, with this President-elect making his way into office — after running a campaign stemmed in hate, fear, xenophobia, and misogyny — we know the work ahead of us will be difficult.
Like many of you, we experienced a mixture of emotions after the election. Some of us were angry, numb, disappointed, and depressed. But, at the end of the day, we knowthe only way forward is to act.
That's where you come in. Now — more than ever — we need you with us.

Since this organization began we have worked on critical campaigns that support all working families in Oregon – with the passage of a statewide paid sick days law, raising the minimum wage, enhancing pay equity laws, building a state-based retirement system, advancing domestic worker rights, and more. These wins have been instrumental to supporting the Oregon families who need it most. We are stronger today than ever – and are still the only local, women-led, grassroots advocacy organization working to change policies and systems at the intersection between economic justice and gender justice.
We are in a moment in which the stakes couldn't be higher. Many lives in Oregon and around the country are in real danger and that means we must act now and over the long-term to protect and expand our basic human rights and access to economic stability and prosperity.

Our future — a future that supports all families to have the rights, resources, and recognition that we all deserve — depends on you.
Most people don't realize how hard we work to raise the funds we need to keep going, to keep fighting. Fundraising to support the community organizing and activism that is needed to change the systems that hold our families back is hard to do. Often the very interests we are seeking to change, control the resources we need in order to build the community power we need to win.
Most people also don't realize how much it matters that we have more people taking action with us. We've grown our membership over the past few years, but we need a lot more of you with us if we are going to take on the challenges that lie ahead.
In Oregon, we have real opportunities to advance some core priorities, like paid familyand medical leave, advancements in child care and senior care affordability, and more. We also face a state budget deficit that compromises core programs and services that our families rely upon. It will take additional work to ward off the most harmful cuts. And we will have a bigger role than ever before in pushing back on the federal rollbacks to civil rights and cuts to core services.
That's why we need more activists like you, acting together and supporting this work with whatever means they have.
We're asking you to become a member of Family Forward Action today.
Being a member of Family Forward Action means:
    Connecting with Oregonians all across our state to share our experiences and build a powerful voice for change.
    Learning, in community with others, the advocacy skills we will need to affect change.
    Acting together and often for things that protect and advance the economic security and equity for women and

families

.
    Organizing Oregonians online and in-person to learn more about how they impact change in their communities and across the state.
    Supporting our labor-intensive work to create economic and caregiving policies that support

Oregon

women and their

families

.
    Calling attention to the challenges women and caregivers face in securing or maintaining economic security and press for change in creative and noticeable ways – together.

Now more than ever we need you with us. Can we count on you?