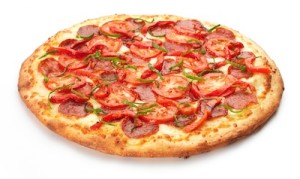 We are only two weeks into our state's 2015 legislative session and have already seen the impact of what dedicated families, workers and community members can do to fight for change.  Just last night we packed five hearing rooms in the state capitol for a public hearing on the proposal to extend paid sick time to all Oregonians.  Having so many of us there in person – several hundred! – clearly showed ourpolicy makers that the ability to work, care for our families, and stay healthy really matters to Oregonians.
And we're just getting started!  We are working on a host of exciting issues that are relevant to Oregon families in the coming months, and we'd love to fill you in.  Over pizza!
This Saturday from Noon to 2 PM at Mississippi Pizza in Portland to hear from our Executive Director Andrea Paluso. You'll get updates on paid sick time, equal pay, affordable child care, raising the minimum wage, and everything else on our "to do" list for 2015.
Here's the scoop:

What: Our Legislative Agenda Launch  – Over Lunch! Purchase a

pizza

, a salad, or a calzone and hear what we've got planned for the 2015 legislative session that just got underway (spoiler alert: a lot!)
Who: You, your family, your friends, your kids and your neighbors!  We bet a lot of them are interested in what we're doing – because our outdated work-family

policies

affect them every day.
Where: Mississippi

Pizza

, 3552 N Mississippi Ave., PDX (Here's a map)
When: This

Saturday, February 21st from 12 to 2 p.m.

RSVP: No need – just stop in! We'd love to see you – and your family & friends, too!
Because our work is stronger when our voices are many, we encourage you to bring a friend or two for lunch whom you think would be interested in our work – we'd love to meet them! 
Please join us for some family fun over pizza as we share our plans to make the most of the opportunities we have during the 2015 state legislative session.
Lastly, here's a link to our Facebook event so you can invite your friends: http://bit.ly/PizzaPartyonFB!
See you Saturday!