Please join us in welcoming Melanni Rosales, our new Campaign Communications Strategist!  We are thrilled to have Melanni join our growing team and we know you'll love her too.
Melanni is dedicated to using her background in strategic communications to help improve the well-being of women and all working families.
Having worked on statewide electoral and legislative campaigns, as well as with nonprofits, political organizations, public-sector organizations, and socially responsible businesses, she develops and oversees integrated communications strategies that emphasize coalition and community building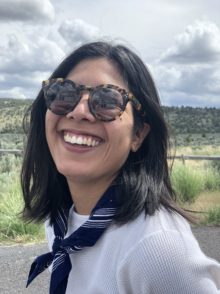 Some other things to know about Melanni:
💎She has a collection of "sentimental rocks" gathered from road trips and other outdoor adventures
🎉If she learns your birthday, she will remember it forever
🥤She's never met a milkshake or ice cream cone she didn't like
If you have any questions for Melanni you can reach her at melanni@familyforward.org. We are so happy that she's joined our team and we look forward to her contributions and valuable expertise to help win policies that support all Oregon families!