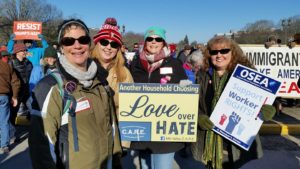 Join us in Salem on 
Tuesday, February 28
 for a Family Forward
activist training
! Our grassroots activist trainings are open to all levels of activism and community organizing and are a great way to meet others in your community. We seek to mobilize those who identify as women (this includes women of color, gender non-conforming, and trans women) to advocate for bold, universal policies that benefit ALL families. No matter how your family is configured, what type of work you do, or how much money you make, we know we are all in this together. Every Oregon family deserves the protections and care that lead to a shared, prosperous future.
Here are the details:
What: Salem Activist Training
Who: Open to all levels of activism; for women who are interested in working on issues that impact and benefit families
When: Tuesday, February 28th, 6:30 – 8:30pm
Where: Salem YMCA – 685 Court Street NE, Salem, OR 97301
Why: At this training we'll provide background on the movement for social policies that help women and the families who rely on them to be economically secure and to thrive. You'll learn why it's important to talk with legislators about issues like paid family leave and child care — and how to do it.
Good to know: Registration is free but required. Refreshments will be provided. Please plan to arrange for childcare; but if you are in need of childcare as a condition to attend, let us know on the registration page. You can register here.