(Rachel tabling during an "bake sale" action in 2017.)
Through the month of February, while the Oregon Legislature is in session, we will be publishing blog posts from different activists within our community regarding their journey into becoming an activist, the importance of bringing our full selves into our activism, and why you should get involved in your community (or with us!). First up is Rachel Jesequel, a mom of 4 who has been involved with Family Forward for the past 3 years.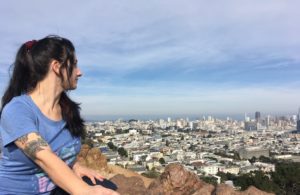 How long have you been volunteering with Family Forward and how did you get started?
I've been a volunteer with Family Forward for about 3 years. My husband is an electrician in the IBEW, and we started getting involved with other political and social activist groups we'd found through there. Someone told him about Family Forward doing some outreach where we live in Beaverton. So, having recently given birth to our youngest child, I decided to see what Family Forward was about. I was the only person to show up to that meeting! But I'm glad I did.
What's your favorite part about volunteering with FFO?
Family Forward helps channel my rage against injustice into effective avenues for change. I feel that I am actually making a difference in tangible ways.
Why is it important to be involved in the community?
If we aren't involved, rest assured, there are others who will step up to influence our communities and make laws and regulations that may be very much against our best interests. We cannot afford to be apathetic. We all deserve to have a say and we must exercise that right, or others will claim it for themselves.
What advice would you give others, especially moms and other caregivers, that are struggling to make time to be active in their community?
Start out small, attend a few meetings with various groups until you find a group and a cause that feels like a good fit for you. If you need help with that, you can even contact me! If your group has good leadership they will find creative ways for you to be involved that utilize your natural talents and abilities, as well as push you a little towards learning new skills. There are many ways to help, and all types of people with all types of ideas, skills, and backgrounds are needed for a movement to be effective.
What else would you like to add?
I am a quiet, shy, stay-at-home mom of 4 kids, with a high school education. If I can be an effective activist, you can too!
---
Want to join Rachel in becoming an activist in our community? Join one of our activist teams in your region! Learn more here.